Nicolette, Inc. Awarded Patent for NicoBoard Technology
Newswire.com
)
Nicolette, Inc., a digital health pioneer focused on patient education and data tools, today announced the US Patent and Trademark Office has issued a new patent (No.11,432,720). The patent protects Nicolette's NicoBoard technology, specifically the transformation of a patient's raw health data from their electronic health record (EHR) into easy-to-use tools such as tailored education content, natural-language insights, interactive visuals, and action prompts. 
Nicolette first implemented NicoBoard in the neonatal intensive care unit (NICU) at CHOC Children's Hospital and has now served over 2,000 NICU families. A clinical study has been published showing breakthrough improvements in family input in care, quality of communication between families and clinicians, and timeliness of updates. 
"From ideation to prototype to thousands of successful user experiences, our team has executed well by building tech that puts the patient at the center of care," says Phil Martie, co-founder and CEO at Nicolette. "This patent is an acknowledgment that we are the first to transform data in a truly patient-centric way, delivering it as an integrated part of healthcare."
Seth Brickman, co-founder and Chief Product Officer, adds, "The ability to transform a patient's raw health data into something that helps them and improves outcomes is what drives the Nicolette team. This patent recognizes the impact NicoBoard has on people's lives."
Nicolette's technology will continue to focus on NICU patients through 2023, with its first expansion to new inpatient departments near the end of the year. The patent extends to these new areas of growth.
Contact Information:
Press Office
[email protected]
Press Release Service by
Newswire.com
Original Source:
Nicolette, Inc. Awarded Patent for NicoBoard Technology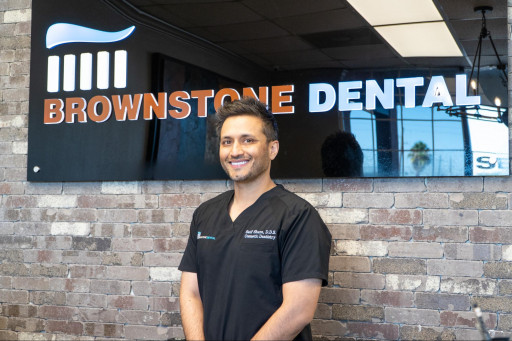 Dr. Saif Shere
Dr. Saif Shere of Brownstone Dental

HOUSTON, January 27, 2023 (Newswire.com)
–
Houstonians love their celebrities. But what if they could get the same treatment a celebrity gets when they visit the dentist? Brownstone Dental, founded by Dr. Saif Shere, is now offering the latest in dental technology and care to its patients with a new way to treat both general and cosmetic dental needs.
"We are so excited to offer this new opportunity for our patients," said Dr. Shere. "I really believe that everyone deserves a chance to feel like they're getting VIP treatment when they go to the dentist."
Known for his expertise, Dr. Saif Shere graduated with honors and became a board-certified dentist in 2008. Later, in 2010, he founded his own practice – Brownstone Dental. After more than a decade of service, Dr. Saif Shere has earned the reputation of being Houston's premier dental practitioner.
Many prominent personalities, including rappers and athletes, have had their teeth worked on by Dr. Shere. His patients come from all over the world because they know they can trust him to do the best work possible. Dr. Shere understands that people have different needs when it comes to their teeth, and he makes sure to take those needs into account at every appointment.
Dr. Shere is famous for treating his patients with a level of care that goes above and beyond what most dentists provide, but what sets him apart is his approach to cosmetic dentistry, which is all about innovation. 
"I want to give them the Bollywood smile," says Dr. Shere. 
In an industry where most dentists are content with the same old procedures, he always looks for new ways to improve the smile of their patients. From advanced technology that allows him to offer the latest in dental techniques to the innovative use of customized methods, Dr. Shere has embraced the future of dentistry and uses it every day to help his patients get the perfect smile.
He went to Klein High School before attending the University of Houston and then Baylor College of Dentistry. If Dr. Shere wasn't a celebrity dentist today, he would likely be teaching history at an esteemed university somewhere around town.
Shere's first celebrity case was four years ago when he worked with a prominent rapper. In his own words, "Every patient is a celebrity to me! We treat all of our patients with extravagant care."
Dr. Shere believes that when it comes to getting the best, there's always room for improvement. With this in mind, he and his team have been working on new ways to help patients achieve their dream smile—one that offers more options than ever before.
For dental work that needs to be done soon, scheduling an appointment with Dr. Shere is possible at Brownstone Dental. They can be contacted at (713) 271-3000 or visited at 9824 Fondren Rd., Houston, TX 77096, United States.
Contact Information:
Saif Shere
Dentist
+1 713-271-3000
Original Source:

Houston's Premier Dentist, Dr. Saif Shere of Brownstone Dental, Treats Dental Patients Like Celebrities