CONQUERing Unveils Revolutionary Fidget Jewelry Designs Amid Sensory Processing Awareness Month
Lifestyle - RSVTV news originally published at Lifestyle - RSVTV news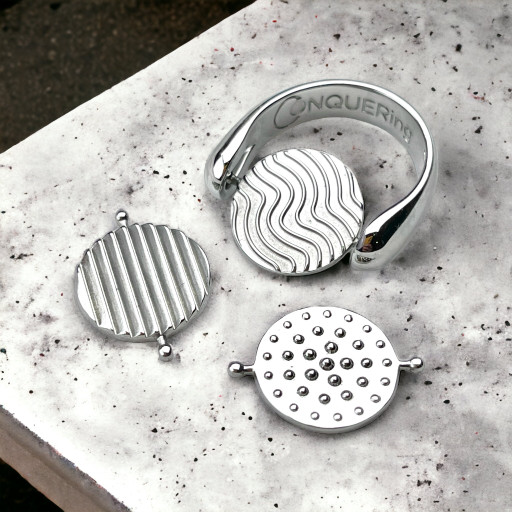 Trailblazing Fashion Brand Expands Collection With Soothing Tactile Patterns, Offering a Stylish Respite for Individuals With Sensory Processing Disorders.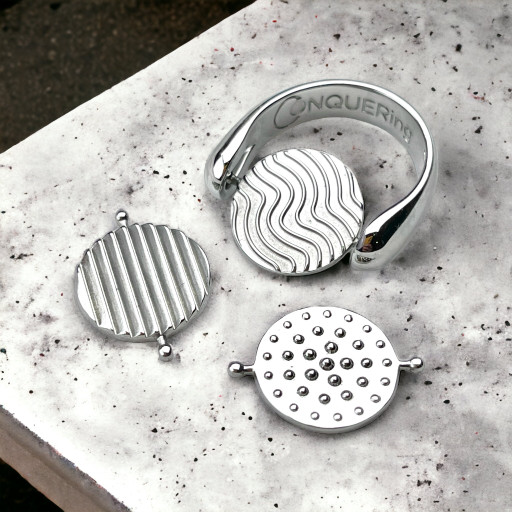 CONQUERing interchangeable fidget jewelry sensory processing rings
Silver ring band with 3 interchangeable sensory discs
CINCINNATI, September 29, 2023 (Newswire.com) - CONQUERing® today announced the release of three new jewelry designs in its line of interchangeable fidget jewelry to raise awareness during Sensory Processing Awareness Month in October. The three new designs each have a soothing tactile pattern: waves, ridges, and bumps.
Recognized as a trailblazer in the adaptive-fashion movement by Fashion Magazine, it comes as no surprise that CONQUERing would, again, innovate new ways to support those with different abilities. CONQUERing jewelry is already enjoyed by many with Sensory Processing Disorders due to its unique spinning and clicking capabilities – perfect for discreet fidgeting on the go. The new collection furthers the sensory support with interchangeable tactile discs.
CONQUERing customer Alysia Tomczyk shared, "As someone that has struggled with their sensory processing disorder, having my CONQUERing helps me daily! These new specially-designed tactile spinners help increase or decrease my sensory input as I need it without making it evident."
Sensory Processing Disorders are more common in adults and children than many people realize. In fact, a study published on the National Institutes of Health website estimates that as much as 16.5% of the general population have symptoms associated with sensory processing challenges.
CONQUERing Founder & CEO, Tammy Nelson, shared, "Whether it through offering an expansive size range, supporting marginalized groups or providing products for those with different abilities, we aim to be inclusive. This is just one more way we support our customers to help them conquer their day, as we like to say."
In celebration of the launch of these distinctive sensory designs over the upcoming weekend, CONQUERing is thrilled to present a complimentary Calm Strips® duo to those acquiring the set. Calm Strips are discreet, portable sensory stickers with a textured surface, another tool for use in overwhelming settings.
To learn more about CONQUERing, visit www.myconquering.com and follow the brand on TikTok, Instagram, and Facebook.
Contact Information:
Alisha Molloy
Business Manager
[email protected]
513-216-5222
Original Source:
CONQUERing Unveils Revolutionary Fidget Jewelry Designs Amid Sensory Processing Awareness Month
The post CONQUERing Unveils Revolutionary Fidget Jewelry Designs Amid Sensory Processing Awareness Month first appeared on RSVTV news.
Lifestyle - RSVTV news originally published at Lifestyle - RSVTV news
Award-winning philanthropist and business tycoon George Stamas, AM, leaves an indelible impact on the cleaning industry and is crowned with Queen's last Australia Day award for his major contributions to multiple philanthropic efforts in business and his community.

MELBOURNE, Australia, December 6, 2023 (Newswire.com)
–
George Stamas, the owner and director of the phenomenal establishment GJK Facility Services, has been recognised with Queen Elizabeth's last Australia Day award, presented to him by Governor General Linda Dessau in Governor House, grounding his 30 years of service devoted to charities and efforts to uplift society. George Stamas initiated his career as an occasional cleaner and progressively elevated his position to the top management and ownership of GJK Facility Services in 1987. Under his prudent leadership, GJK Facility Services blossomed from a new enterprise to an industry giant, employing over 3,000 people across Australia and New Zealand.
George Stamas innovatively led GJK into a joint venture with the Victorian State Government and the Brotherhood of St. Lawrence, culminating in a groundbreaking pilot project that brought employment to 35-40 long-term unemployed public housing tenants in Melbourne's inner suburbs. This commendable project garnered praise from Harvard University and was honoured with the esteemed H. Bruce Russell Global Innovators Award for Community Redevelopment. His influential strides in the management and cleaning Industry have also earned him major commendations, including the "Excellence in Sustainability Business Award, City of Yarra" in 2012 and the "Australian Business Award" for Community Contribution in 2011.
Beyond his business success, George Stamas, AM, has held key roles in several governmental and non-profit organizations. He is a member of the Business to Business Conduct Study Group, CEO Forum for Disability Action Plan Framework and a Fellow of the Australian Institute of Management. Stamas' board appointments include Director of GJK Indigenous Solutions Killara Indigenous Facility Services, Alternate Director of AustralianSuper, Ex Finance Director of Facility Management Association of Australia, and he was recently awarded the Prestigious Life Member Award of FMA Association, where he donated his expertise for over 18 years. He is a trustworthy member of Epworth Medical Foundation's Board of Trustees.
His membership in the Order of Australia in 2022 is a testament to his meaningful contributions to society. George Stamas, AM, is also known for his commendable contributions to Bridge of Hope for homeless children. His commitment to sparking positive change in society, enhancing the standard of living in communities, and fostering the growth of other professionals is unrivalled.
George Stamas, AM, also supports Lighthouse Foundation, helping displaced women and their families through his successful company GJK Facility Services, which staff give their time to contribute to helping this charity. George Stamas and GJK Facility Services also support The Kids Cancer Project, helping find a cure for kids' brain cancer in Australia.
George Stamas, AM, and his entire team at GJK Facility Services continue to transform businesses and society at large. It's this spirit of philanthropy and excellence that made him the recipient of the prestigious award. His dedication and strong work ethic continue to inspire upcoming entrepreneurs in Australia and beyond.
Giving back and doing good has always been part of GJK's DNA, thanks to our founder and managing director, George Stamas, and this program just takes this to the next level, enabling our employees to participate and give back too.
For three decades, GJK Facility Services has invested in initiatives and programs that benefit the wider community, fostering sustainable outcomes that have positive social impacts. To date, a generous portion of this work in the community has been philanthropic – donations to support the purchase of equipment, scholarship programs, and the like.
GJK Facility Services launched its new social impact program, GJK Giving Back, with one of the program's partners, Lighthouse Foundation. Built around four pillars; Philanthropic, Volunteering, Workplace Giving and Employment, the program has been designed so GJK employees can get involved.
"Working with charities, not-for-profits and organisations we already support, like the Lighthouse Foundation, the GJK Giving Back program will build on these relationships to create shared value partnerships," said CEO Elias Stamas. "Giving back and doing good has always been part of GJK's DNA thanks to our Founder and Managing Director, George Stamas, and this program just takes this to the next level, enabling our employees to participate and give back too."
Lighthouse Foundation provides homes and therapeutic care programs to children and young people impacted by long-term neglect, abuse, and homelessness. Their focus is to create caring communities where kids can feel safe, create meaningful relationships, and begin to heal from traumatic relationships. Lighthouse relies heavily on the support of its corporate partners to allow them to continue to provide the life-changing work they do with Australia's most vulnerable kids.
"It's integral for Lighthouse to have these purposeful partnerships with organisations, exactly like with GJK, so we can continue to deliver the care programs necessary for young people to heal," Dr. Eamonn McCarthy, CEO of Lighthouse Foundation, says. "We wouldn't be able to do it without them."
Lighthouse's impact on young kids in the homelessness space speaks for itself. Eight out of 10 children who go through Lighthouse never return to the streets, and for every $1 invested, there is a $12 return of investment for the community. They have proudly changed the lives of 1,000+ young people.
The GJK Giving Back program also involves the Kids Cancer Project, SuperTee, The Hunger Project, Epworth Foundation and Bridge of Hope.
In the words of Winston Churchill – "We make a living by what we get, but we make a life by what we give".
Contact Information:
Media Relations GJK Facility Services
Media
1800635983
Original Source:

GJK Facility Services Owner George Stamas Wins Australia Day Award
The post GJK Facility Services Owner George Stamas Wins Australia Day Award first appeared on RSVTV news.