Nostalgic, Comfort Food Recipes at Every Meal, 'Welcome to My Southern Table'
Books - RSVTV news originally published at Books - RSVTV news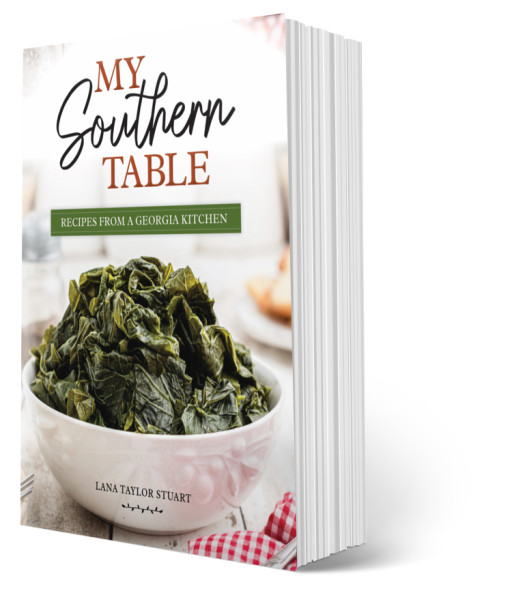 My Southern Table: Recipes from a Georgia Kitchen
BUFORD, Ga., September 14, 2023 (Newswire.com) - Born and raised in south Georgia, Lana Stuart grew up in a family where the kitchen was the heart of the home. The smell of chicken frying, the taste of freshly churned ice cream, the laughter and conversation that filled the air as the family gathered around the dining table— these are the cherished memories that have shaped her and her new cookbook, My Southern Table: Recipes from a Georgia Kitchen.
A full-color photo and clear, easy-to-follow directions accompany each of the 246 recipes. Notes and tips on nearly every page ensure success in the kitchen.
Readers will find dozens of "heritage recipes" throughout the book. "These are the recipes I learned from my mother, grandmothers, and aunts who were all accomplished home cooks," says Lana. "And I've also created new recipes that reflect the continuing evolution of Southern cooking. This is Southern food as I know it today—vibrant, diverse, and ever-changing."
Enjoy recipes like:
Baptist Church Party Punch
Copper Pennies
Shrimp and Grits
Watergate Salad
Chicken Jallop
Chocolate Little Layer Cake
"Each recipe in this book carries a piece of my heart and tells a story from my life. They are the recipes I turn to when I want to celebrate, to comfort, to share love, and to create new memories with my family and friends. Now, it's your turn to bring these recipes to life in your kitchen and to weave them into your own stories."
Lana Stuart has been a food blogger since 2009. Her popular blog, Lana's Cooking, has more than 5 million pageviews per year and has been featured in Real Simple, Parade Magazine, Bon Appetit, and The Kitchn. Fans and followers can sign up for her daily recipe newsletter, featuring her tried and true recipes. She is a watercolor artist, a bookbinder, and an avid reader. Lana and her husband, Bill, have a daughter and two grandchildren and live in Buford, Georgia.
Presales are open on all major platforms, as seen here on her website, Lanascooking.com. All available media assets can be found in this folder, Lana Stuart Cookbook Assets.
MY SOUTHERN TABLE:
Recipes from a Georgia Kitchen
By Lana Stuart
Imprint: Food and Fiction, LLC
Distributed by Ingram/Spark
Publication date: October 23, 2023
Paperback/$36.99 Ebook/$9.99
346 Pages
246 Recipes, Each with Full-Color Photo
Interior Trim Dimensions: 7.5" x 9.25"
ISBN: 979-8-9880113-6-1 (paperback)
ISBN: 979-8-9880113-7-8 (digital)
FOR MORE INFORMATION AND MEDIA INQUIRIES CONTACT:
Culinary Media Trainings and Productions
Virginia Willis or Cynthia Graubart
###
Contact Information:
Cynthia Graubart
Account Executive
[email protected]
404-822- 1099
Virginia Willis
Account Executive
[email protected]
404-964-1753
Original Source:
Nostalgic, Comfort Food Recipes at Every Meal, 'Welcome to My Southern Table'
The post Nostalgic, Comfort Food Recipes at Every Meal, 'Welcome to My Southern Table' first appeared on RSVTV news.
Books - RSVTV news originally published at Books - RSVTV news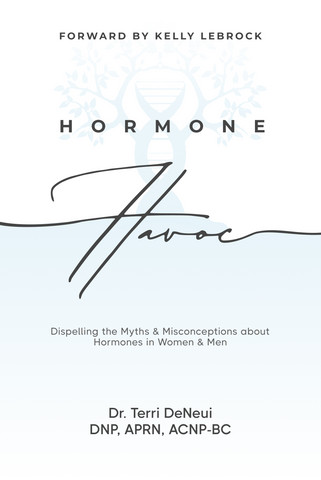 EVEXIAS Health Solutions founder's first-of-its-kind book debunks the myths and misconceptions surrounding hormones in women and men

Southlake, Texas, September 28, 2023 (Newswire.com)
–
Over the past 15 years, Terri DeNeui, DNP, APRN, ACNP-BC, a board-certified nurse practitioner and founder of EVEXIAS Health Solutions, has been educating both her patients and fellow healthcare professionals about the new, cutting-edge medical advancements in hormone health while also dispelling common misconceptions surrounding the various treatment options. Now, Dr. DeNeui is set to empower readers to take control of their hormones with the release of her new book, "Hormone Havoc." The Kindle version of the book is now available for purchase on Amazon and a hard-cover version will be available in October.  
"Hormone Havoc" stems from Dr. DeNeui's deep-rooted passion for helping her patients by advancing the field of hormone health. She recognizes that hormones play a fundamental role in long-term health, the risk of chronic disease, as well as emotional and mental well-being. The book offers real-world tips to achieve and sustain hormone optimization at any age while debunking common myths such as "one-size-fits-all" treatment plans, the belief that hormone therapy is exclusive to women, concerns about increased cancer risks and more.
"When I first started my career as an emergency room nurse, far too often I would see patients come in and out of the ER, suffering from highly preventable conditions and leaving with only prescribed drugs to band-aid the symptoms," expressed Dr. DeNeui. "As someone who has spent the last decade studying and treating patients with these symptoms, I've learned that we need to transform our healthcare model to prioritize disease prevention rather than disease management. This starts with creating a hub that patients and fellow healthcare professionals can reference to uncover the truths about hormone health and treatment options, which is exactly what this book is."
"Hormone Havoc" is not just a book; it's an invitation to embrace the power of hormonal balance and understand the power of hormone therapy. Key highlights include:
Realizing and normalizing the fact that individuals don't have to live with sleeplessness, low energy, diminished libido or mood swings. 
Revealing practical methods to shield individuals from chronic illnesses. 
Discovering actionable strategies that empower patients to proactively safeguard their health, effectively reducing the risk of chronic diseases and ensuring a healthier, happier life.
Understanding that aging doesn't have to be unbearable. Learning how to maintain youthful vitality, cognitive sharpness and overall wellness as individuals navigate the journey of aging.
"In the course of my own journey, I have worked with various practitioners, each contributing their unique expertise. However, it is Terri who has left an indelible mark on my life," said Actor, Philanthropist and Women's Health Advocate Kelly LeBrock. "Through her EVEXIAS Medical Centers and the EVEXIAS Healthcare Solutions providers she has trained, Terri has fostered places where individuals can find solace and healing, allowing them to transcend the chaos of 'hormone havoc' and discover what I call 'hormone harmony'."
What initially began as a memoir of Dr. DeNeui's life, touching on her bootstrap journey to success, "Hormone Havoc" evolved into a powerful resource that not only reflects her personal experiences but also serves as a roadmap for others to embark on their own journeys to better hormone health. From first-hand patient encounters to her creation of the EvexiPEL Method, the only patented hormone replacement therapy pellet developed in an FDA-registered facility and formulated with triamcinolone, the book is expected to be nationally appreciated and to serve as a guide for hormone health initiatives within the medical community.
"Hormone Havoc", published by Holland Robinson Agency, is now available for purchase on Kindle through Amazon. The official book launch celebration will take place on November 2 in Southlake, Texas, which will be an exciting opportunity for readers and healthcare enthusiasts to engage with Dr. DeNeui, gain valuable insights into hormone health, and celebrate this significant milestone in the field of healthcare and wellness.
For more details about the official book launch celebration and to stay updated on Dr. DeNeui's upcoming events, please visit HormoneHavoc.com.
# # #
About Terri DeNeui, DNP, APRN, ACNP-BC
Dr. Terri DeNeui is the Founder of EVEXIAS Health Solutions, creator of the EvexiPEL Method, owner of EVEXIAS Medical Centers, and a board-certified nurse practitioner, nationally renowned speaker, author, and entrepreneur. Her new book, "Hormone Havoc," is the essential guide for patients and practitioners seeking to understand hormone health and achieve true hormone optimization and truly know why ignoring our hormones has been a detriment to health and quality of life. Dr. DeNeui holds advanced certifications in Hormone Replacement Therapy, Preventive Wellness Medicine, and Functional Medicine. Dr. DeNeui earned her bachelor's degree in nursing from Texas Women's University in Denton, Texas, and achieved both her master's and doctorate degrees in nursing from the University of Texas at Arlington in Arlington, Texas.
Contact Information:
Sarah Caro
O'Connell & Goldberg PR
954.964.9098
Original Source:

Hormone Therapy Pioneer Dr. Terri DeNeui Releases Definitive Guide to Hormone Health in New Book
The post Hormone Therapy Pioneer Dr. Terri DeNeui Releases Definitive Guide to Hormone Health in New Book first appeared on RSVTV news.