Stacey Hill's New Book 'Where is Change?' is a Poignant Journey That Follows 2 Young Girls Who Learn All About Change and the Ways It Can Impact One's Existence
Books - RSV News originally published at Books - RSV News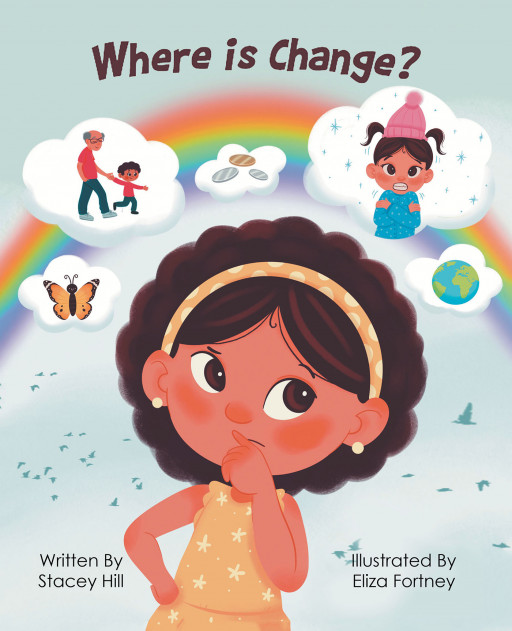 Newswire.com
)
Fulton Books author Stacey Hill, a change management consultant whose passions are helping to support people through their change journey, has completed her most recent book "Where is Change?": a charming tale of two young girls who discover how change can impact different aspects of one's life, and the ways that it can make people feel.
"Changes occur throughout our lives, and we frequently fear them," writes Hill. "We dread the impact that change will have on our daily lives and what we formerly considered normal. Beginning early discussions about change with our children can aid in guiding them through the path of change, allowing them to develop confidence, resiliency, and a secure environment to communicate their emotions when experiencing change."
Published by Fulton Books, Stacey Hill's book is a powerful tool for parents and guardians to help discuss with young readers what change is and help them navigate their reactions to changes in their lives. Ultimately, Hill hopes her tale will help children grow more open to change and see the positives that any kind of change can bring about.
Readers who wish to experience this touching work can purchase "Where is Change?" at bookstores everywhere, or online at the Apple iTunes store, Amazon, Google Play, or Barnes & Noble.
Please direct all media inquiries to Author Support via email at [email protected] or via telephone at 877-210-0816.
Contact Information:
Media Relations
[email protected]
Press Release Service by
Newswire.com
Original Source:
Stacey Hill's New Book 'Where is Change?' is a Poignant Journey That Follows 2 Young Girls Who Learn All About Change and the Ways It Can Impact One's Existence
Books - RSV News originally published at Books - RSV News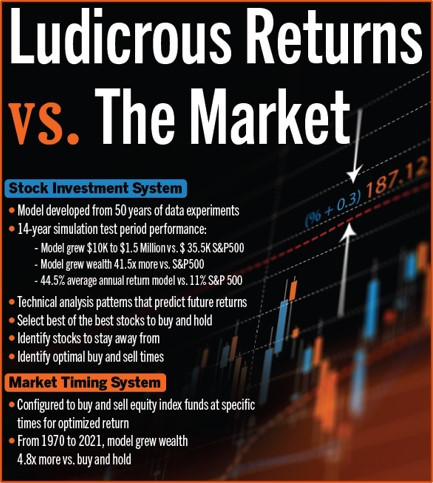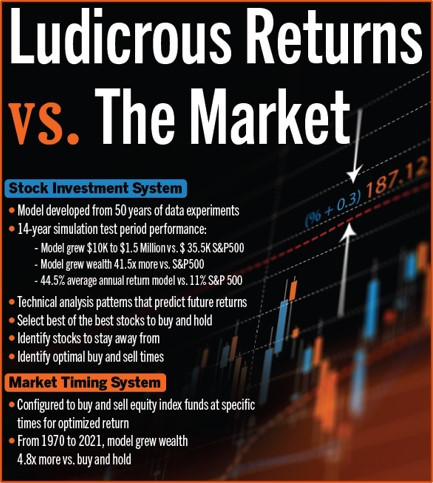 "Ludicrous Returns vs. The Market"
Book Cover

WASHINGTON, Mich., November 3, 2023 (Newswire.com)
–
Gatekeeper Press is pleased to announce "Ludicrous Returns vs. the Market" launch in November 2023. This book introduces a new groundbreaking approach for investing. Author Joe Furnari is an experienced investor with an MBA in Finance and also an Engineer with a passion for data analysis.
Book Highlights:
New investment approach is based on "patterns that predict consistently over the long term"
Stock Investment model developed for optimizing performance on stock investments
Market timing model developed for optimizing performance on S&P500 equity index investments
"I had a vision to earn game-changer returns vs. the market by seeking patterns that predict performance" – Joe Furnari
The book describes development of the stock investment model, which includes an in-depth analysis conducted on stock patterns over a 50-year period, from 1970 to 2020. This analysis led to the discovery of "patterns that predict consistently over the long term."  These predictive patterns were also found to be common across stocks of multiple industries and market caps. The book defines these patterns and shows illustrative examples of the high correlation to predict performance.
To prove the stock model effectiveness, a 14-year simulation test from 2007 to 2020. The test results were astonishing. Average annual return was 44.5%, compared to S&P 500 11.1%. This is not a day trading model.
Joe Furnari applied advanced mathematics and statistical techniques to identify chart features with a high probability to future 3-6 month performance. He refined the model and retested repeatedly until the model delivered "Ludicrous Returns vs. the Market." This book provides instructions on how to apply the stock investment model.
The discovery of patterns that predict also led to the development of the market timing model. Tailored for 401K accounts restricted to equity index funds, this model identifies optimal cash vs. S&P 500 equity position. The model is configured to identify when to exit equities ahead of potential crashes and when to re-enter. In a simulated 52-year test spanning from 1970 to 2021, this model accumulated wealth at a staggering 4.8 times the buy-and-hold strategy.
"Ludicrous Returns vs. the Market" will help readers learn how to:
Create a high-performing stock portfolio.
Screen for best-performing 15% of stocks and stocks to avoid.
Identify optimized time to buy.
Identify strategic time to sell.
Time the Market buying and selling S&P500 equity index at optimized times.
Apply the stock investment and market timing models with illustrative examples.
Book is available in Kindle, eBook, paperback or hardcover.
For media inquiries, author interviews, or additional information, please contact: Joe Furnari
About the Author: Joe Furnari has an MBA in Finance and investment experience dating back to the 1990's. Joe also has an Engineering background and is a data science enthusiast. He has unveiled a revolutionary technical analysis approach to stock trading and market timing in his groundbreaking book, "Ludicrous Returns vs. the Market."
Contact Information:
Joseph Furnari
Author
5863037484
Original Source:

Author Joe Furnari Releases New Book 'Ludicrous Returns vs. the Market'
The post Author Joe Furnari Releases New Book 'Ludicrous Returns vs. the Market' first appeared on RSVTV news.