MATEREZA Haute Couture Spring 2022 Paris – Fashion Channel
Fashion - Reality Syndicate Viewers originally published at Fashion - Reality Syndicate Viewers


MATEREZA Haute Couture Spring 2022 Paris – Fashion Channel
Visit and Subscribe to Fashion Channel to find out more! –
Visit our Shop:
Designer in jewelry and luxury watchmaking for 8 years, image consultant and lifelong fashion enthusiast, Tereza Mahmuti Mujota combines her passions and above all the finesse of her choices with the excellence of the realization.
Today, these three strings intersect and intertwine to offer you breathtaking, handmade cocktail and evening dresses.
From Haute Joaillerie to Couture, Tereza practices tailor-made in everything she does, so she has traveled across France and Italy to bring back the finest tulles, silks, linens, velvets and cottons.
Each of the dresses is sewn entirely by hand , in Europe, by an experienced seamstress, making each model unique.
Videos, fashion, stylists, models, the biggest fashion events pass by us.
Accurate descriptions for every video since 1982 with attention to the smallest details, this is what makes fashion channel the best tool to immerse yourself in the fashion world at 360°.
Beauty advices, news, secrets, backstage and exclusive fashion shows are all included within our channel.
All videos are available in high resolution formats full HD on the YouTube Fashion Channel.
Follow us and our channel if you want to keep up with new trends!
#fashion #ss22 #parisfashionweek

Originally published at https://www.youtube.com/watch?v=zoEoe3wMwIk
Fashion - Reality Syndicate Viewers originally published at Fashion - Reality Syndicate Viewers
From trendy black dresses to timeless bridal styles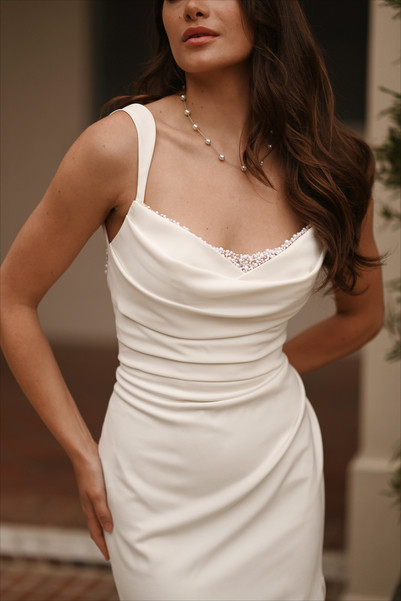 M23 ESS Style D3823
M23 ESS Style D3823

LENEXA, Kan., June 8, 2023 (Newswire.com)
–
The newest collection from globally-renowned wedding dress designer Essense of Australia invites brides to honor their special moment in a romantic gown that reflects their style and love story. The latest designs capture classic bridal elegance with a chic, contemporary twist.    
"Brides want to celebrate their special day by embracing each and every moment, and they want to wear a wedding gown that lets them express their individuality," says Martine Harris, Chief Creative Officer, Essense of Australia. "The new Essense of Australia collection is filled with stunning silhouettes that combine traditional dress details with today's bridal trends." 
From simple and sleek to seriously swoon-worthy, the newest collection offers versatile gowns for every size, shape and bridal vision. Plunging necklines and graphic floral lace add a touch of dramatic flair, while sparkling embellishments, intricate beading and dazzling pearl details exude effortless glamour. Statement and off-the-shoulder sleeves provide an ultra-flattering appeal, while a fashion-forward new color, black, allows brides to take their aisle style to the next level.  
With so many gorgeous gowns to choose from, brides can find a dress that speaks to them and their wedding day. The new Essense of Australia collection is now available at a retailer near you, featuring over 27 new designs. Gowns are available in U.S. sizes 2 to 20, with many styles available in the EveryBody/EveryBride collection for U.S. sizes 22 to 34. To view the entire collection or find a store, visit www.essensedesigns.com. 
About Essense of Australia 
Essense of Australia is a leading international bridal design house and wholesaler that creates and manufactures award-winning gowns for independent bridal retailers throughout the world under labels Stella York, Essense of Australia, Martina Liana, Martina Liana Luxe and All Who Wander,  as well as private label collection Oxford Street and bridesmaid label Sorella Vita. The Essense of Australia family of brands can be found at more than 1,200 retailers worldwide including the U.S., Canada, U.K., Australia, New Zealand and throughout Europe. 
Contact Information:
Lindsay Santee
Associate Director of Strategic Communications
9139098623
Original Source:

Wedding Dress Brand Essense of Australia Celebrates Living 'In the Moment' in Latest Collection
The post Wedding Dress Brand Essense of Australia Celebrates Living 'In the Moment' in Latest Collection first appeared on RSVTV news.