King of Footwear Art Kobi Levi

Original Article
Design and shoes have been Kobi Levis passion since his childhood in Tel Aviv, Israel. His first shoe designs were created during his high school days. They were made from cardboard back then. Following his passion, in 2001 he graduated from Bezalel Academy of Arts & Design, Jerusalem. Since his graduation Kobi worked as a freelance footwear designer. During this time Kobi learned the trade secrets of shoe development and craftsmanship. For his own leisure Kobi designed unique, creative and innovative shoe styles, which challenge the standard definitions of design, art and fashion to create a niche of their own. These footwear art creations were uploaded to a blog Kobi started in April 2010. Soon the blog took on a life of its own and reactions streamed in from all over the world. This over-night exposure brought Lady Gaga to use the design Double Boot in her Born this Way music video.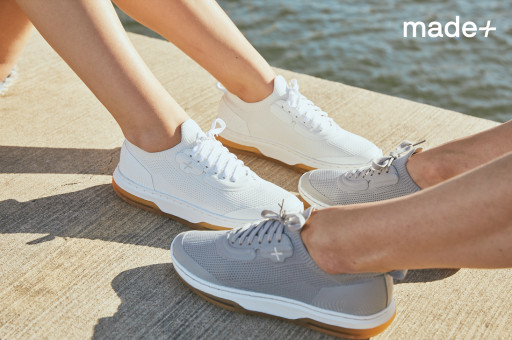 The forward-thinking, planet-positive brand creates footwear made with purpose in Annapolis, Maryland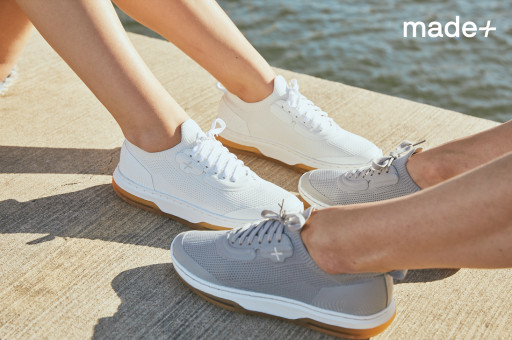 Made Plus Debuts The SKIFF
The SKIFF is a tribute to Annapolis' rich boating history. Ethically engineered, forward-thinking fashion made with purpose.

ANNAPOLIS, Md., September 26, 2023 (Newswire.com)
–
Made Plus, a pioneering footwear brand founded by industry veterans Trey Hentz, Kevin Fisher, and Alan Guyan, officially sets sail today. Headquartered in Annapolis, Maryland, at 190 Admiral Cochrane Dr. STE 170, Made Plus marks a new era of personalized "planet-positive" footwear proudly made in the United States. With Made Plus, every step matters, which is why the brand has reduced a complex manufacturing process from 300 steps to less than 50 – significantly eliminating negative outputs on the environment. 
Having collectively contributed their designs to industry-disrupting products for athletic footwear giants such as Under Armour, Nike, and Sketchers, the trio of Guyan, Fisher, and Hentz now embark on an extraordinary journey to redefine the traditionally tedious, outdated, and wasteful shoe manufacturing process. What started in a garage in Annapolis is now a micro-factory where the team passionately advocates for a sustainable future and a reimagined approach to crafting "made-to-order" footwear.
Local production and a relentless focus on an environmentally conscious lifestyle fall at the heart of Made Plus' identity, positioning the brand as a trailblazer in the footwear landscape. "Our core mission revolves around reducing our carbon footprint, minimizing waste, and championing ethically viable practices. Every step matters, from sourcing components to the production process to the elevated performance our customers experience," said Alan Guyan, Founder and CEO of Made Plus. "We are also focused on maintaining a local-first approach, crafting products for locals by locals, fostering a strong sense of community and connection right here in Annapolis." 
Unlike conventional shoe manufacturing, Made Plus employs a revolutionary made-to-order business model, significantly reducing waste while providing a design-thinking customization experience. By leveraging cutting-edge technologies, including 3D printing, knitting, and digital modeling, Made Plus offers personalized footwear tailored to each individual's needs – a shoe made just for you.
Guyan expressed his enthusiasm, stating, "We are thrilled to have the freedom to focus on our mission while doing what we love best – designing and innovating in a way that raises the bar for the footwear industry while delivering customized, elevated experiences for our customers."
The debut offering from Made Plus is the "SKIFF" lifestyle shoe, a loving tribute to Annapolis' rich boating history, specifically inspired by the small boat that shares its name. Showcasing ethically engineered performance UPKNT technology, each pair is upcycled from six plastic water bottles, free of excess foams and linings, and incorporates Azo-free dyes and upcycled components such as laces, webbing, and support structures. "The 'SKIFF' encapsulates our dedication to crafting contemporary, high-quality footwear from recycled materials, embodying our vision of forward-thinking fashion made with purpose," added Guyan. 
About Made Plus Inc. 
Made Plus is a visionary footwear brand founded by industry veterans who have honed their craft at major companies, including Under Armour, Nike, New Balance, and Sketchers. Steadfast in its vision to revolutionize the footwear industry, Made Plus is committed to purpose-led design thinking rooted in simplified shoe science. The brand is making a positive impact through ethical manufacturing and using high-quality, sustainable materials. Headquartered in Annapolis, Maryland, every pair of Made Plus shoes is made-to-order and crafted with care in the U.S. To learn more, please visit https://www.madeplus.com/.
Contact Information:
Caitlin Wolf
PR Consultant
410-935-2363
Original Source:

Athletic Footwear Industry Veterans Launch Made Plus
The post Athletic Footwear Industry Veterans Launch Made Plus first appeared on RSVTV news.