Celebrity Aesthetician Zakiya Tavie Gives Clients a Non-Surgical Enhancing Lift at Glynis Aesthetics Medical Spa
Beauty - Trend Magazine originally published at Beauty - Trend Magazine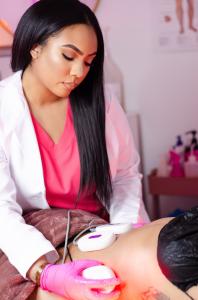 Zakiya Tavie's non-surgical treatments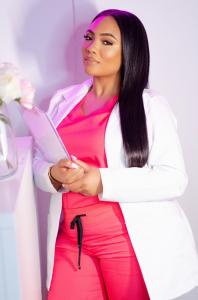 Zakiya Tavie, owner of Glynis Aesthetics Medical Spa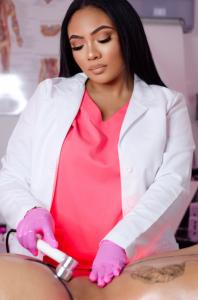 Glynis Aesthetics Medical Spa
BELLEVUE, WA, UNITED STATES, July 25, 2022 /EINPresswire.com/ — Aspiring businesswoman Zakiya Tavie is following her passion as the founder of Glynis Aesthetics Medical Spa, a non-invasive treatment salon for those seeking body sculpting. Aesthetician Zakiya's targeted clientele are women who have gone through aggressive surgery such as LIPO, BBL, tummy tucks, etc. and need post operative care. She also caters to those work-out enthusiasts who have already adopted a healthy eating routine but still feel like they can't get rid of those stubborn extra inches.
Non-invasive body contouring is rising in popularity as a sought-after alternative to invasive and painful surgeries, which lead to long healing times. At Glynis Aesthetics Medical Spa, ladies receive a nonsurgical body sculpting procedure that is safe and has many other advantages. There is no general anesthesia or incisions that would ultimately lead to scarring. It requires no downtime with no side effects. The lasting results are gradual, therefore discreet.
Entrepreneur Tavie honors the memory of her mother, Glynis, who she named the salon after. Glynis was the owner of a thriving hair boutique. Her trendy styles had a transformative impact on all of her customers that walked through the door. Zakiya knew at an early age that she wanted to give women that same uplifted feeling. A quote from her website exclaims, "We offer services including Ultrasound Cavitation, RF Skin Tightening, Laser Lipo + Post Op Care as well as other customized body sculpting services! All treatments are non-invasive and there's no down time needed. No scars, just GREAT RESULTS."
As a compassionate philanthropist, she wants to continue to work with nonprofit organizations and women in her community to leave a legacy for many years to come. Her desire is to change lives through enhancing the beauty of each woman she encounters. She encourages clients with these words, "Love your body regardless of where you're at, but enhancing your beauty is a great thing as well, the noninvasive way…. As women, we are our own critics."
Clients enjoy a captivating experience at Glynis Aesthetics Medical Spa and give 5-star reviews. Roxanne states, "This is my happy place, my weekly indulgence. The ambiance is awesome. Zakiya is lovely. You come out of her space rejuvenate and ready to face another week/day. Thanks, Zakiya."
For more information, please contact Stephanie Brown at Email: [email protected] or Phone: (253) 306-6434 or
Website: www.glynisaesthetics.glossgenius.com
Stephanie Brown
Glynis Aesthetics Medical Spa
+1 253-306-6434
[email protected]
Visit us on social media:
Other
You just read:
News Provided By
Stephanie Brown , Glynis Aesthetics Medical Spa
July 25, 2022, 10:00 GMT

EIN Presswire's priority is source transparency. We do not allow opaque clients, and our editors try to be careful about weeding out false and misleading content.
As a user, if you see something we have missed, please do bring it to our attention. Your help is welcome. EIN Presswire, Everyone's Internet News Presswire

,
tries to define some of the boundaries that are reasonable in today's world. Please see our
Editorial Guidelines
for more information.


Article originally published at https://www.einpresswire.com/article/582197644/celebrity-aesthetician-zakiya-tavie-gives-clients-a-non-surgical-enhancing-lift-at-glynis-aesthetics-medical-spa
Beauty - Trend Magazine originally published at Beauty - Trend Magazine

Utilizing only the highest-quality faux lashes on the market, Lash Me NYC's talented technicians can create any look imaginable, from natural understatement to extreme glamour, by employing revolutionary lash extension techniques.

Lash Me NYC
Lash Me NYC

NEW YORK, September 21, 2023 (Newswire.com)
–
Lash Me NYC's mission is to bring out the confidence in every woman through its high-quality beauty services—specifically its revolutionary lash extension offerings. 
The skilled technicians at Lash Me NYC use only the most natural-feeling mink cashmere lashes to create longer and fuller eyelashes that emphasize a woman's natural beauty. These looks include Full Lite Classic, Full Natural Classic, Full Glamour Classic, Full Luxe Hybrid, Full Volume and Full Mega Volume. In addition, they also offer lower lash extensions and customized color lashes, as well as their own brand of specially formulated, oil-free lash shampoo and tools for cleaning and maintaining the extensions.
Among the different techniques employed by the lash artists at Lash Me NYC are the Classic lash technique, which adheres a single faux lash to as many lashes as needed to create the desired look; the Volume technique, involving the use of 4D or 5D fans on the lashes; and the Hybrid lash technique, which utilizes a combination of both techniques to achieve the desired look. 
In addition, there are four eyelash categories for clients to choose from: Classic, Volume, Hybrid, and Mega Volume. The Classic options include Full Lite Classic and Full Natural Classic, styles intended to mimic the soft, natural appearance of your lashes with subtle extension rather than volume. Imagine a high-quality mascara that remains smudge-free and long-lasting all day. Volume Lashes, on the other hand, promote a bolder and voluminous look by supercharging your lash count with 4D and 5D volume for a more moderate to intensely dramatic appearance that adds dimension and fullness. For an ultimate "night out" look, however, Mega Volume lashes employ 6D to 10D volume to achieve a more striking level of density, drama, and fluffiness. Finally, Hybrid Lashes are a mix of Classic and Volume styles customized for the client's eye shape. The best of both worlds, customers can expect strategically placed lashes that bestow modest volume that doesn't look as inauthentic. 
Eyelash extensions are made from semi-permanent fibers that are attached near the lash line and seamlessly integrated into the natural lashes to create an entirely new look. Since everyone's natural beauty differs due to facial structure, eye shape, and personal style, Lash Me NYC features various lash extension techniques and styles for their clients to choose from. They listen closely to what clients want and offer professional feedback based on each client's unique appearance. Additionally, they provide aftercare instructions to preserve the longevity of the lash extensions.  
About Lash Me NYC
At Lash Me NYC, the satisfaction and loyalty of their clients is of the utmost importance. Their goal is to build long-term relationships based on trust, respect, and a commitment to exceeding client expectations with confidence-building beauty results. With locations in Brooklyn Heights and Carroll Gardens, their client-centered studios seek to create a warm, attentive environment that makes every client feel confident and valued the moment they walk through the door. To learn more, visit their website.
Contact Information:
Frenda Jin
Original Source:

Elevate Your Beauty Game With Lash Me NYC's Revolutionary Lash Extension Techniques
The post Elevate Your Beauty Game With Lash Me NYC's Revolutionary Lash Extension Techniques first appeared on NT Beauty.