Sustainable Stocking Stuffers & Gift Packages
Beauty - Trend Magazine originally published at Beauty - Trend Magazine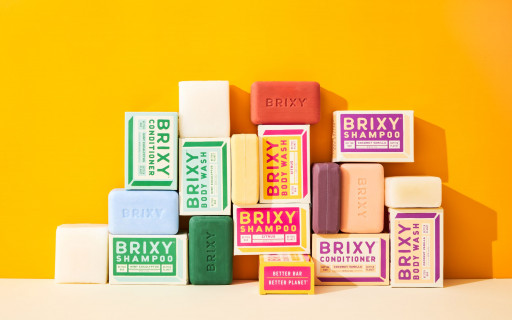 Plastic-Free Hair and Body Bars Make for a Perfect Holiday Gift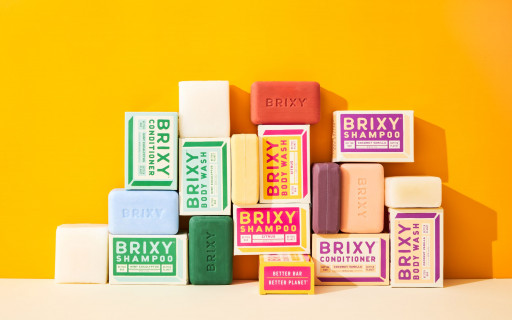 BRIXY products
BRIXY products stacked on orange backdrop
SAN DIEGO - November 15, 2022 - (
Newswire.com
)
BRIXY offers sustainable gift ideas this holiday season, making it easier for you to go plastic-free. BRIXY's customer favorites are perfect for friends and family who are beauty enthusiasts and environmentally minded. The brand launched their shampoo, conditioner, and body wash bars in May of this year and has gained significant traction across e-commerce and in grocery chains across the U.S. Their assortment packages, which consist of the Starter Set and the Hair Care Duo, have become very popular amongst their customers. 
"These assortments make for the perfect gifts," says BRIXY CEO Trey Vilcoq. "Not only are our bars the perfect size for stocking stuffers, but an assortment package allows you to gift your friends and family with products that offer an exceptional experience and are also planet friendly. The plastic-free and waterless beauty category is gaining popularity, and our target audience is interested in trying these types of alternative products, making them a great holiday gift." 
BRIXY encourages a sustainable lifestyle and vows to make it easier on consumers to go plastic-free this holiday season. Did you know that there is a 30% increase in plastic use around the holidays? Cosmetics make up roughly 14% of all gifts given, many of which come in plastic packaging. BRIXY bars come in recyclable and compostable packaging. One of their bars is equivalent to three plastic bottles of shampoo and conditioner, providing a much longer shelf-life than traditional hair care. When BRIXY was founded, they set out to be a solution to the plastic waste problem our world is experiencing. 
With their team's proven track record of creating better alternatives, they hope to share their love of sustainable products with people of all types. From citrus shampoo to coconut vanilla conditioner to mint eucalyptus body wash, they offer something for everyone on your holiday gift list this year.  
BRIXY shampoo and conditioner bars retail at $13.99 and the body wash bars retail at $5.99. Find BRIXY bars in over 500 retail locations across the United States, on Amazon, and online via other e-commerce retailers.
ABOUT BRIXY:
The team behind BRIXY is well-versed in creating clean and effective body care products. BRIXY creates beauty-conscious personal care products that are mindfully made. Our products are planet friendly without any plastic packaging, always. We also educate on sustainable living while supporting the planet through the non-profit we created. We are on a mission to disrupt conventional product categories by introducing better alternatives. Better Bar. Better Planet. 
MEDIA CONTACT:
Kendall Sass 
(866) GO-BRIXY
Contact Information:
Kendall Sass
VP Marketing
[email protected]
866-462-7499
Press Release Service by
Newswire.com
Original Source:
Sustainable Stocking Stuffers & Gift Packages
Beauty - Trend Magazine originally published at Beauty - Trend Magazine

Utilizing only the highest-quality faux lashes on the market, Lash Me NYC's talented technicians can create any look imaginable, from natural understatement to extreme glamour, by employing revolutionary lash extension techniques.

Lash Me NYC
Lash Me NYC

NEW YORK, September 21, 2023 (Newswire.com)
–
Lash Me NYC's mission is to bring out the confidence in every woman through its high-quality beauty services—specifically its revolutionary lash extension offerings. 
The skilled technicians at Lash Me NYC use only the most natural-feeling mink cashmere lashes to create longer and fuller eyelashes that emphasize a woman's natural beauty. These looks include Full Lite Classic, Full Natural Classic, Full Glamour Classic, Full Luxe Hybrid, Full Volume and Full Mega Volume. In addition, they also offer lower lash extensions and customized color lashes, as well as their own brand of specially formulated, oil-free lash shampoo and tools for cleaning and maintaining the extensions.
Among the different techniques employed by the lash artists at Lash Me NYC are the Classic lash technique, which adheres a single faux lash to as many lashes as needed to create the desired look; the Volume technique, involving the use of 4D or 5D fans on the lashes; and the Hybrid lash technique, which utilizes a combination of both techniques to achieve the desired look. 
In addition, there are four eyelash categories for clients to choose from: Classic, Volume, Hybrid, and Mega Volume. The Classic options include Full Lite Classic and Full Natural Classic, styles intended to mimic the soft, natural appearance of your lashes with subtle extension rather than volume. Imagine a high-quality mascara that remains smudge-free and long-lasting all day. Volume Lashes, on the other hand, promote a bolder and voluminous look by supercharging your lash count with 4D and 5D volume for a more moderate to intensely dramatic appearance that adds dimension and fullness. For an ultimate "night out" look, however, Mega Volume lashes employ 6D to 10D volume to achieve a more striking level of density, drama, and fluffiness. Finally, Hybrid Lashes are a mix of Classic and Volume styles customized for the client's eye shape. The best of both worlds, customers can expect strategically placed lashes that bestow modest volume that doesn't look as inauthentic. 
Eyelash extensions are made from semi-permanent fibers that are attached near the lash line and seamlessly integrated into the natural lashes to create an entirely new look. Since everyone's natural beauty differs due to facial structure, eye shape, and personal style, Lash Me NYC features various lash extension techniques and styles for their clients to choose from. They listen closely to what clients want and offer professional feedback based on each client's unique appearance. Additionally, they provide aftercare instructions to preserve the longevity of the lash extensions.  
About Lash Me NYC
At Lash Me NYC, the satisfaction and loyalty of their clients is of the utmost importance. Their goal is to build long-term relationships based on trust, respect, and a commitment to exceeding client expectations with confidence-building beauty results. With locations in Brooklyn Heights and Carroll Gardens, their client-centered studios seek to create a warm, attentive environment that makes every client feel confident and valued the moment they walk through the door. To learn more, visit their website.
Contact Information:
Frenda Jin
Original Source:

Elevate Your Beauty Game With Lash Me NYC's Revolutionary Lash Extension Techniques
The post Elevate Your Beauty Game With Lash Me NYC's Revolutionary Lash Extension Techniques first appeared on NT Beauty.